---
Hopefully, the holiday season bring up memories of great times with family and friends.  Not only does it bring up memories, the season creates an awesome opportunity to create or carry on memories with your kids and family.
How do you create memories when the budget is tight?
Don't worry, there are plenty of ways to create traditions with your family that involve little to no money, and I've listed 30 Christmas traditions for a tight budget to get you started!
Food
Cookie Decorating – Decorating cookies is fun for all ages, whether you're single, newly married, or have a house full of kids!  Spending an evening – or weekend – decorating cookies is a fantastic way to make memories and eat great food, all at the same time!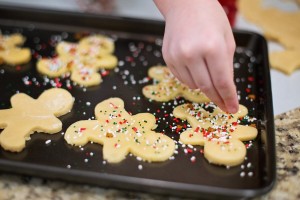 Christmas Eve Meal – Making the same meal each and every Christmas Eve – especially if it is a comforting, family favorite – is one very simple way to associate comfort and traditions with Christmas.  As a bonus, if you involve the whole family in making the meal, bonding time and cherished traditions will be formed over time.
Christmas Decorating Snacks – We have a tendency to associate good food, the smells of food, and memories, which is why eating a certain snack, such as cookie dough, while decorating the Christmas tree as a family has branded memories in my mind from when I lived at home.  You can recreate the same food/memory association in your own home by serving a certain snack while decorating for the holiday and making it an event, rather than a chore.
Gingerbread Houses – Baking, designing, and decorating Gingerbread houses is a time-tested tradition for many families.  Try incorporating the story of Hansel and Gretel for extra oomph. [Read More…]