8 Affordable Gifts for Men
Get your guy a gift he really wants (and will use) this Valentine's Day!
Get him a gift that will stick around for more than an hour. A gift that is more of a "score" than a gift.  But on a budget.
Check out the gallery of affordable gift for men that he'll actually like:
A Power Station – $19.99 (regularly $69.95)

Jackery® Mini
is the smallest portable external battery designed for extending mobile device battery life. It includes a high-energy density, fast-charging, compact design, and smart safety protection circuit. High-capacity portable phone charger with 3200mAh rechargeable battery power capacity with 1A output. Adds 10 extra hours of talk time or 1 full charge to your iPhones. This portable battery charger (external battery charger) adds 100% extra battery life.
The world's thinnest external battery charger; Fits easily into any bag or pocket; Compact, portable & stylish design; Easily fits into your bag to provide instant power; Perfect for long flights, road trips, or whenever you need to charge your mobile devices; often used as a substitute for a car charger, such as an iPhone car charger, dual USB car charger and iPad car charger.
Dollar Shave Club – from $1.00/month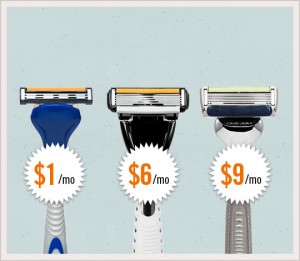 With a slogan like "Shave Time, Shave Money" what's not to like about Dollar Shave Club?  Get your man the gift of never shaving with a dull razor again.
Dollar Shave Club couldn't be simpler. Select one of their great blades, pay only for the cost of the blades, and they send 'em right to your door every month.  The price is unbeatable (see picture above) and so is the flexibility.  Check it out at Dollar Shave Club.
Discount Cross-Fit – From $29
Give your fitness buff the gift of fitness!  Groupon has deals on fitness classes, especially cross-fit regularly.
Scratch Map – $7.29 (regularly $29.99)
This Cool Scratch Off World Map
 is just what your world-traveler needs.  It's the perfect way to show off where in the world he's been while livening up your wall!  The top layer is gold foil for easy scratching, and underneath lies each country in a different color.  Help him display a lifetime of travel!
Whiskey Stones – $11.99 (regularly $29.99)
If you're like most whiskey drinkers, you probably chill your whiskey with ice. Well after spending money on premium whiskey or scotch why would you dilute it with water? These Chilling Rocks

are the perfect way to slightly chill your spirit without diluting the complex flavors. These Chilling Rocks are made from 100% soapstone's and are non-porous that will not change the whiskey's flavor or odor, keeping your whiskey as original as possible. The Chilling Rocks
 are gentler than ice and are best used to cool down your favorite spirit just enough to take off the edge without reducing flavor. The Chilling Rocks intent is to slightly chill the drink to take the edge off. Soapstone is made up of talc which will not react to water, alcohol and or other drinks. If used with care, soapstone will not scratch your glasses. About Soapstone: Known for its ability to maintain a temperature for long periods of time, natural soapstone is listed as Generally Regarded As Safe (GRAS) by the FDA. Soapstone is made up of talc which will not react to water, alcohol and or other drinks. If used with care, soapstone will not scratch your glasses. Proper Usage: While slightly damp, Store them in the freezer for at least 4 hours before use. Add 3 Rocks to your glass, and pour your favorite spirit until it reaches the height of 1 stone (about 2 fl oz). Let stand a few minutes and then enjoy your spirit. When finished, rinse the rocks and store in the freezer while it is still damp for next time NOTE: place them in the freeze when they are still damp and not totally dry, the minor dampness does not dilute your drink but it will help the Rocks bring down the temperature of your drink by a few degrees more. Chilling Rocks are not meant to cool as a drink as quickly or as much as ice. They are intended to provide a slight chill-between 8 and 15 degrees-that will to take the edge off without dilution.
Syma S107/S107G R/C Helicopter – $19.68 (regularly $129.95)
Because really, what guy doesn't want a remote-controlled helicopter
? This Brand New 3 Channel Gyro mini Metal rc helicopter is 1 of the world's newest, smallest and lightest RC Helicopter you can get! At approx. 7.5″ long, it easily fits in the palm of your hand and is fully functional, equipped with latest Gyroscope technology, which makes this helicopter an instant hot seller in the RC World. This mini Gyro Metal helicopter charges directly either from the USB cable or from the controller which uses "AA" batteries and has a full-function trim control for the perfect flight. Get one today before they all fly away!
Nerf N-Strike Elite: Strongarm Blaster – $12.88
Speed and mobility are yours with the quick draws and fast firing of the Strongarm Blaster
. It has the same long-range power as other N-Strike Elite blasters (sold separately) and it rapid-fires 6 darts when you pump the Slam Fire slide repeatedly while holding the trigger. Loading is easy and quick with the flip-open rotating barrel and its Tactical Rail is compatible with most N-Strike accessories (sold separately). Add the Strong arm blaster to your arsenal and unleash a storm of darts at your target.
Paisley Lane Soaps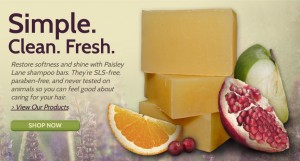 Give your guy a gift you'll both love – soap that not only smells manly, but will leave his skin moisturized and healthy!  Paisley Lane's handcrafted bars of soap are artistically designed and richly scented. Made with nourishing oils, tussah silk, herbs and spices and other wholesome ingredients. Gluten-free.
What are you getting your guy this Valentine's Day?  What kind of budget have you set for gifts?
---
Working to be Debt Free?  Join The Centsible Home Newsletter for inspiration for your journey:
---
This post may contain affiliate links.  See my disclosures for more information.