---
How To Organize Warranties and Manuals Quickly & Easily
I hope your holiday season was amazing, and that you were able to spend quality time with your family.  I'm so excited to start the year off right with practical, helpful tutorials like this one that will make your whole year easier, happier, and healthier.  Today's project is one of my favorites because it's very easy to do!
We're going to learn how to organize warranties and manuals quickly and easily.
The new  year always makes us want to be more organized, to take on those home projects we've been putting off, and to do everything possible to start off on the right foot.  Today, we're going to organize all of those warranties and manuals you have laying around.  You've probably been meaning to organize them, right?  Check that item off your to-do list today!
There are lots of different ways to organize warranties and manuals, but I tend to prefer binders because of their affordability, and because I don't have a whole lot of file cabinet space.  Plus, binders look really pretty on the outside – even when the inside is a hot mess.
Here's what you'll need:
All your warranties and manuals: appliances, electronics, cars, and anything else you can think of. No manual is too small or too large.
A binder or two.  They don't need to be new, just look decent
If you don't have these on hand, the links above are to affordable yet pretty options I found on Amazon.  They are affiliate links, meaning that if you click on them, I may make a small commission at no cost to you!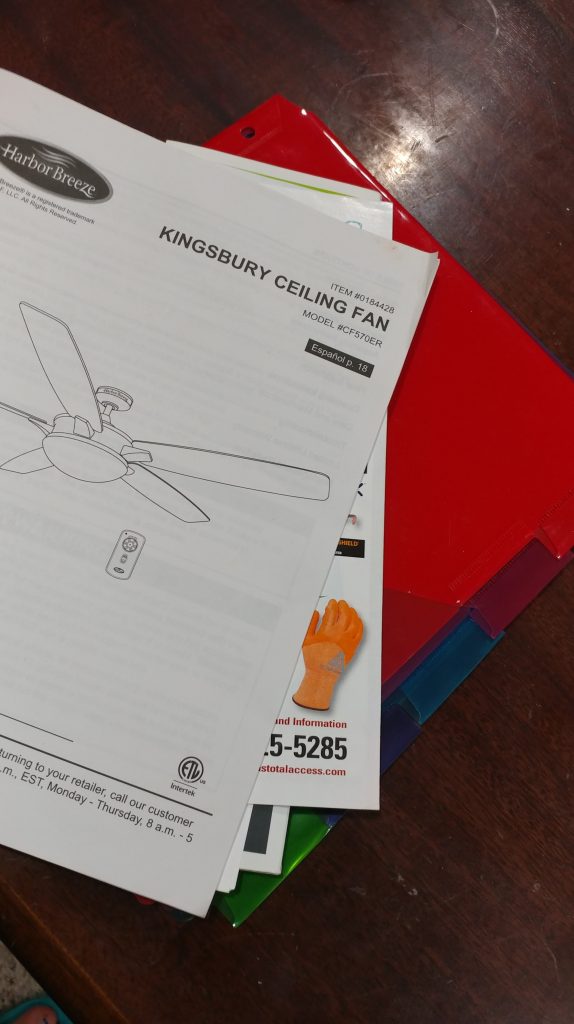 Instructions:
1. Gather All Your Warranties and Manuals
Even though you're excited to get started stuffing warranties into binders, hold on because it will go much smoother and be more organized in the end if you wait until you've scoured the house for every single warranty and manual you can find.  Collect them all in one room and sort them into general categories.  I used Appliances, Electronics, Cars, Outdoors, and Garage.  If you have any manuals that don't fit into these categories, feel free to make more categories!
Take a small box with you to gather all your warranties – you'll probably have more than you realize!
2. Find or Buy Your Supplies
Once you have gathered up all your manuals, it's time to set up your binders.  If you haven't bought or found everything you need, now is the time to do this:
I used tabs I already had + circle stickers for labeling.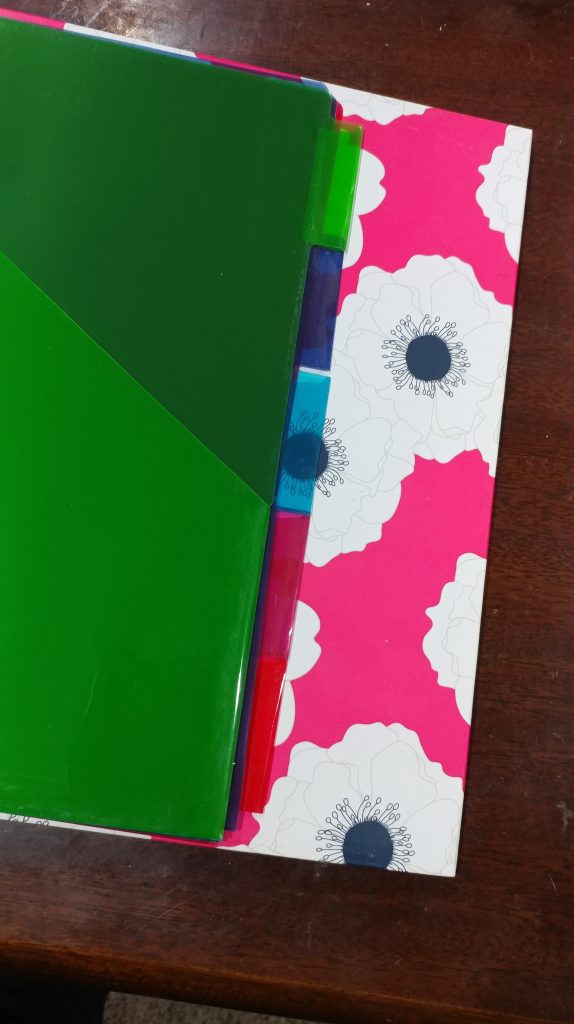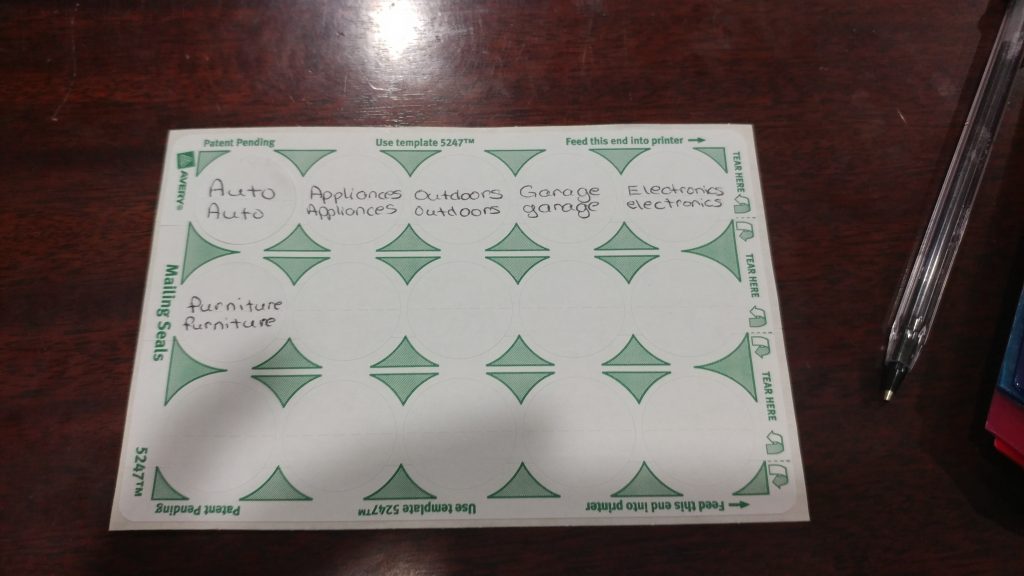 You can either buy the kind that uses label inserts, or the kind you write on.  Either will work.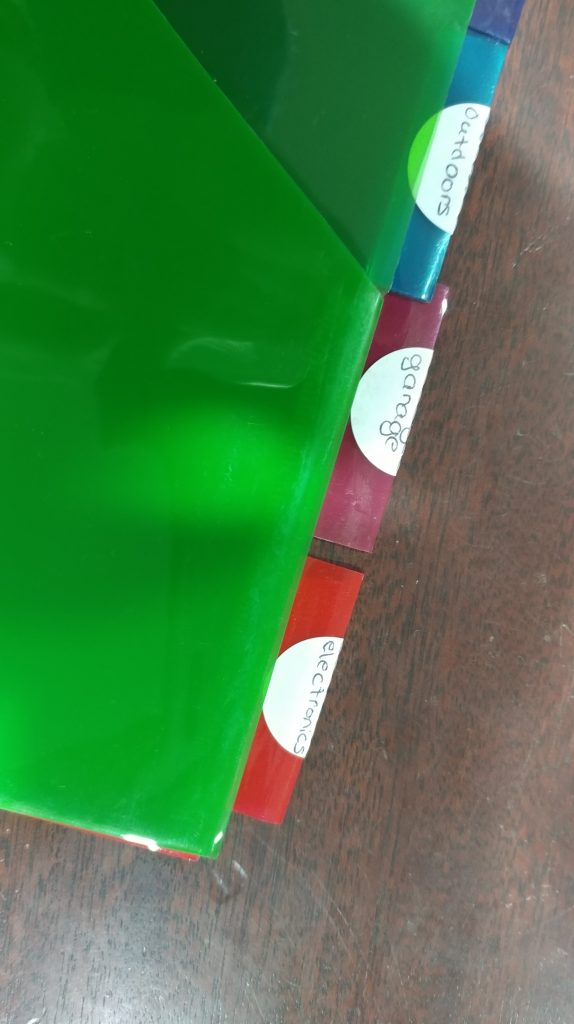 3. Set Up Your Categories
Since you already sorted your manuals into piles by category, make one tab for each pile.  You can use absolutely any categories that make sense to you.  These are what made sense to me:
Automotive
Appliances
Outdoors
Garage
Electronics
Furniture
My preference is for more general categories rather than dialing into more specific ones, but you can use whatever makes sense in your brain.  Do whatever works for you.

4. Start Putting Manuals In The Binder
Now that you've done all the prep work, this part should go pretty quickly: putting the warranties in the binder.
Most of mine fit nicely into the plastic sheet protectors, but occasionally some were over sized.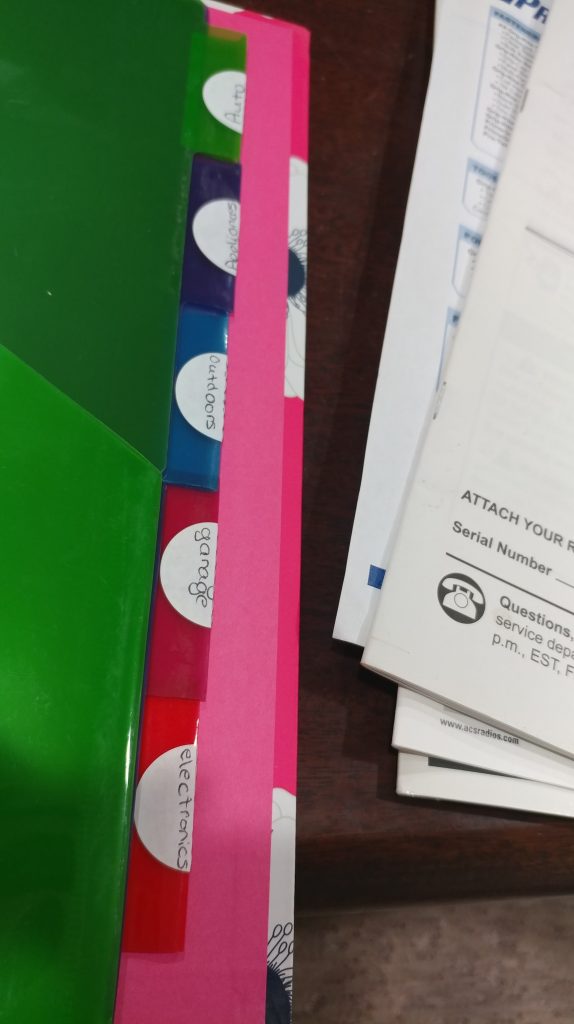 For those that were too big, I simply folded them in half, and then slid them right into the sheet protectors.
Some of your manuals will have more than one component, and in that case put all the pieces into the same protectors so you can find them quickly and easily.
You may need to fill more than 1 binder – we did! – and once they're filled you can store them anywhere: in your office, in the kitchen, or on a random bookshelf.  They will look nice on the outside, and contain your warranties nice and neatly!
Congratulations on doing this project!
I told you it would be easy!
Isn't it nice not to have those scattered all around your house anymore?
---
Looking for ways to save?  Join The Centsible Home Newsletter for inspiration and tips:
---
This post may contain affiliate links.  See my disclosures for more information.