How Elite Blog Academy Taught Me To
Triple My Blog's Page Views
Most of us know all too well how overwhelming it can feel to juggle the day-to-day demands of writing a blog with the big-picture strategy of creating a profitable business.  I know I've been there, trying to juggle social media, writing, graphics, and all those emails.  
It's overwhelming, to say the least….
Have you ever wished someone could guide you through the process of building a successful blog and show you step-by- step, exactly how to grow your traffic and generate a sustainable income?
That is exactly what Elite Blog Academy was designed to do.
A few years ago I decided to take a chance and enroll in the first-ever Elite Blog Academy course – and the decision wasn't easy.  Up until that point, the $499 I would spend on the course was EVERYTHING I had earned up until that point.
Would it be worth it?  
Would I be impeding my family's debt repayment on something that wouldn't pan out….?
A dream that would never happen?
Well, I took a leap of faith and I am so glad I did!  In the two months since I started Elite Blog Academy, not only have my pageviews tripled, my Pinterest following has grown by leaps and bounds, and my income from this blog and my second blog are growing rapidly!
The Verdict…..I could not be happier!
On the left are my September 2014 Stats – 23,114*
The Right are my October 2014 Stats – 97,085 Page Views!*
….And my November stats are shaping up even better!
My Pinterest Following Has Grown Beyond my Wildest Expectations!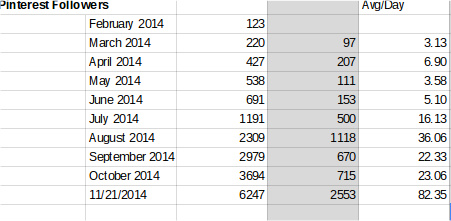 During November, I've gained an average of 82 followers per day – that's huge!
My earnings are rising…
You'll see this in my Traffic & Income Report for November when it comes out, but suffice to say November will be my best month yet!
What convinced me Elite Blog Academy was worth it?
Ruth Soukup
Besides running a wildly successful blog (that she built before all of these helpful courses, Pinterest articles, and masterminds, I might add) Ruth Soukup has one of the most gracious, giving hearts of anyone I've met in the blog world – and I've met a lot of wonderful people, ya'll!  Besides her giving spirit, Ruth has a proven track record of taking her blog from nothing to a six-figure income.  If I was going to drop that kind of cash, I was going to learn from the best.
The Price
$499 seems like a lot of money.  It seemed like a lot them, when the blog was earning, like, nothing, and it seemed like a lot of money still.  But once I read more about the course, I realized that $299 was very little to pay for all I was getting: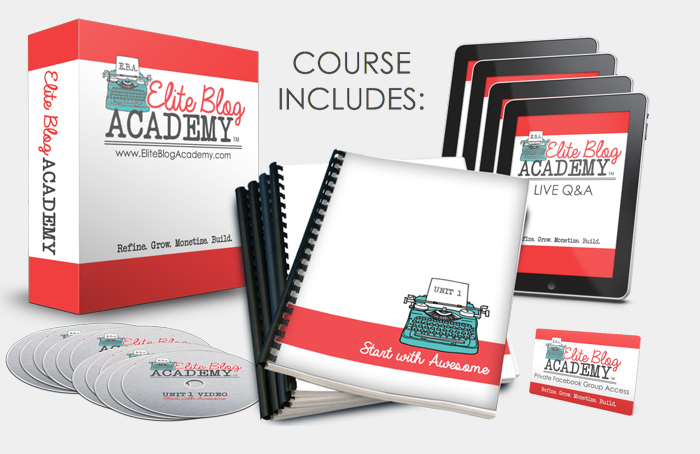 Here is what the course includes:
12 Comprehensive Unit Videos
12 Detailed Unit Workbooks with Video Outlines
16 Powerful Handouts
30 Purposeful Assignments
4 Live Webinars
Accountability & Community within a Private Community Forum
200% Money Back Guarantee
This was the last straw for me – at least in my mind, haha!  I realized that I truly had nothing to lose.  Not only would I be learning from the best, if I didn't see measurable results not only would I get my initial investment back, I would get it doubled.
The Price….again…..
Yes, like I said before, $499 seems like a lot of money, but that initial price was only offered to the initial class – and now to you, on Black Friday.
On February 22nd, Elite Blog Academy is opening enrollment again (affiliate link) but only for 5 days (until February 26th). After this period, enrollment will close again until next year when the price will go up.
If you've been wanting to grow your blog but it just wasn't coming together or you're looking for a proven plan to help you go from a casual hobby to a successful business, I don't think you can do any better than Elite Blog Academy. 
Through a powerful combination of effective videos, practical and insightful handouts, purposeful assignments, and interactive live webinars, Elite Blog Academy will empower, enable, and inspire you to take the specific steps necessary to refine your message, grow your audience, monetize your platform, and transform your blog into a successful and profitable business.
While so much of the information currently available about Internet marketing is written only by those whose audience consists of other bloggers and marketers, Elite Blog Academy is different. It shares proven, field-tested strategies for building a successful, profitable blog, regardless of the niche and no matter the target audience.
It is possible to create a successful business from a blog, and Elite Blog Academy shares exactly how it's done, step-by-step.
Elite Blog Academy is designed to be self-paced, but should not be completed in less than 12 weeks. Blogging is not for the faint of heart, and this course requires a willingness to buckle down and get to work. That said, for those who are willing to do the work, it also comes with a 100% money-back guarantee.
Anyone who completes the course and has not seen measurable results in both traffic and income growth will get your money back, no questions asked. That's a pretty incredible promise, but it means that you've literally got nothing to lose.
Remember, 
Enrollment for Elite Blog Academy is closed for 2018, but you can still pick up these awesome freebies or join the waiting list to be notified when the class is opening up again:
If you've been wanting to grow your blog but it just wasn't coming together or you're looking for a proven plan to help you go from a casual hobby to a successful business, I don't think you can do any better than Elite Blog Academy.