---
You Don't Need
$1,680,000 to Retire
Occasionally, when I have a minute, I like to poke fun at news articles. Admittedly, this doesn't happen very often, because usually I'm busy with, you know, actual work. But sometimes, I do actually have a minute, and when I don't indulge in celebrity gossip, it's mainstream news articles, and their skewed view of the economy.
One of my favorites is articles or calculators that supposedly tell you how much money you need to retire. Well, yesterday I got all crazy and went over to Kiplinger's Retirement Savings Calculator to see how much they say I'll need to retire.
Fair Warning: I have really strong opinions about retirement and this article is looooong!
A number of factors go into determining how much is needed to retire in the Kiplinger Calculator, including:
Current income: $36.000 + $48.000
Years Until Retirement: 15
Percentage of Current Income You'll Need To Replace: 50%
Monthly Social Security Income: $0
Monthly Retirement Pension Income: $0
Retirement Savings Already Accumulated
Estimated Average ROI
Current Market Value of Your Home
Remaining Mortgage at Retirement
Years You Expect To Live During Retirement: 35
How Much Of Your Portfolio You Expect To Be Invested in Stocks During Your Retirement
First, The Problems:
Above, I listed exactly what I put into the Calculator, but the reality of how we're strategizing for early retirement is much different. At the risk of boring you too much, I"ll run down a quick list of what is wrong with this list:
Current income: $36.000 + $48.000: I'm ok with this because it asks you how much of your current income you want to replace during retirement.
Years Until Retirement: 15. We actually have 16 years until retirement, but still
Percentage of Current Income You'll Need To Replace: 50% – we will actually need to replace less than 50%, but this is as low as the calculator will let me go
Monthly Social Security Income: $0 – Let's be honest, social security won't be available to use at 40, and by the time we're old enough for it to be available, it won't be around.
Monthly Retirement Pension Income: $0 – fine
Retirement Savings Already Accumulated $0 – fine
Estimated Average ROI – I used 8%, but I prefer 7%, just to be safe. The average returns of the stock market are actually much higher.
Current Market Value of Your Home: Literally does not matter. The value of my home has absolutely no bearing on how much we need to save
Remaining Mortgage at Retirement: Also does not matter, because I have factored the mortgage cost into our rental property income already.
Years You Expect To Live During Retirement: 35 – we actually expect to live 60 years, but 35 was as high as the calculator would go. I guess it expects no one will retire before 65!
How Much Of Your Portfolio You Expect To Be Invested in Stocks During Your Retirement – I used 60%. Big fan of investing in stocks, here, especially when you have a passive income cushion.
Still, even with those problems, Kiplinger's calculator told me I needed to save $1,638,000 for retirement.
And you guys, I laughed!
I really, really, do not need to save that much, and neither do you! Here's why:
You Have A Budget
Currently, our budget looks like this: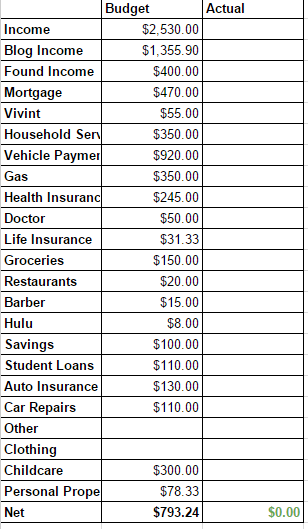 Because of all of our debt, it currently costs us $3,492 just to meet our minimum obligations. We have very little extra to save for retirement. Instead, tons of our money goes towards debt – and I hate it!
Multiplied by 12, the yearly income we currently need is:
$41,904
Let's call it $42,000 just to make the math easy :-)
But, we WILL NOT have debt when we retire, unless it's debt related to our passive income. I'll get to the debt and passive income points in a minute, but invision our retirement budget with me for a minute, if you will: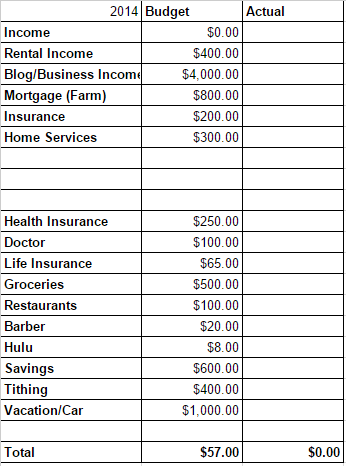 Sure, there are some assumptions in this budget, including $400 monthly rental income from the house we're currently living in. I've done the calculations, and this figure is rock-solid. Maybe someday I'll do a post on how to break down costs for a rental property.
I'm also banking on passive income. I've already reached this income level in the last 2 months of being self-employed, and since I fully plan to keep building the business, this is a no-brainer.
I've increased the cost for home insurance, health insurance, doctor, food, and eating out, partially for inflation, and partially because we'll be older. but as you can see, ridding ourselves of debt and adding passive income into the mix means that we will not need any of our savings at all in order to put $600 in savings every month and save $1,000 each month for vacation or a new car.
Overall, our monthly expenses, savings aside, as best I can estimate will total:
$2,743.00
Multiplied by 12 for the annual income we need (after taxes), is $32,916. To make the math easy, let's just call it $33,000. Essentially, we've cut $9,000 off of our yearly needs just by eliminating our debt.
You're Frugal
Or at least a frugal wanna-be. Don't worry, I'm not judging! I'm a frugal wanna-be too! We have found ways to keep our utility, grocery, and insurance expenses low, to name a few. Want to know how? Check this out:
All in all, while I struggle every single day to keep our budget where it needs to be to get us out of debt rapidly, I feel I've done a great job at explore exciting and effective ways to keep our spending in check.
Sure, we could find ways to save more, but I've been intentionally generous with out retirement budget because I can. In retirement, we'll want to live a little!
You Won't Have Debt
You've already seen the $9,000 yearly difference debt made in our retirement budget. Currently, we're in the process of paying off $30,000 of debt in 2015. I't's not going to be easy, but we're well on on our way!
Eliminating debt not only keeps you from paying interest to the banks, and instead earning interest on your investments, slaying your debt dragon lowers your expenses, and therefore, the amount you'll need to save for retirement.
By eliminating $9,000 from our yearly budget, we have eliminated our need to accumulate an additional $585,000 before retirement! How much could paying off your debt save you?
You'll Have Passive Income
If you't have passive income, it could be for one of many reasons:
You don't have time
You don't have any ideas
You don't want to
Valid reasons, all, but I can debunk every single one of them with this one statement:
It's Worth It
There are so many benefits of having passive income, and to now being self-employed! For nearly 2 years, I worked 75+ hours a week between my day job and my side hustle until I was finally able to take it full-time. It certainly wasn't easy, not while I was pregnant, not while I had a newborn, and not even after my daughter turned 1. But now that she's 20 months old and I'm able to work from home full-time and spend as much time with her as I please while still adding a significant amount of money to our income, I can tell you with certainty that it's so worth it!
If you don't have time, make time. You can always, always, always, find a few hours a week to work a side-hustle. Just like paying off debt, working all of those hours isn't easy, but it's totally worth it.
If you don't have any ideas, look online, or to your friends. Someone you know has a need that is not being met, and if you take that idea and run with it, you'll have your side-hustle. I have an entire Pinterest board called Work At Home Mom dedicated to home business ideas. There's something for everyone!
If you don't want to then I'm going to be honest: You don't care all that much about your retirement.
So get out there, find an ideas, find the time, and make it happen!
You Know Social Security Is A Joke
Something super important to planning your retirement is ensuring that you know every detail you can – including whether or not you'll be receiving Social Security income. If you're retiring within the next 5 years, go ahead and factor Social Security income into your retirement plans. But if you're retiring later than 5 years from now, then do some research and you'll find out that the Social Security system is doomed to fail – and it's going to happen sooner rather than later.
I'm not factoring Social Security income into our retirement, and to be safe, you won't either.
You're Smarter Than They Are
You know how to calculate your retirement correctly.
You know that by paying off debt and being frugal, you can lower your expenses drastically, but still within a range that keeps you happy and having fun.
You know that by lowering expenses, you won't have to save nearly as much for retirement.
You know that by developing passive income, you can offset the amount of income you'll need during retirement.
And you know that by expecting to live off of 4% of your investments every single year during retirement, you can not only factor in inflation, you can never touch the principle you saved and invested during your working years. You will literally have endless income.
In our case, using the numbers I worked through above, we wouldn't need to touch the principle we saved, or the interest it earns during retirement. We would be be saving and investing during our retirement!
But, if we were to have no passive income, and we truly needed $33,000 per year, to find out how much we needed to save, the calculation is simple:
$33,000/0.04 = $825,000
And that is a far cry from the 1.6 million that Kiplinger's Retirement Calculator says that I need to save!
You'll Have Perspective
Because you're here, reading this, I know that you're interested in personal finance, budgeting, and saving for retirement, and because of that you have a unique perspective. You don't buy into the hype, and you think carefully and methodically about every single financial decision.
And ya'll, I totally respect that.
You're going to retire in style!
How are you handling your retirement calculations?
---
{form}
---
{image}
*This post may contain affiliate links