It's official, Swagbucks is one of the easiest and one of our most fun way to make extra money online. To date, they have paid out more than $400,000,000 – and we're out to get a piece of that pie!
If you're new to Swagbucks, or just want to amp up the amount you're earnings with them, then this tutorial is for you!  I've gathered the 13 best ways to make extra money with Swagbucks no matter how much time and energy you have.
Swagbucks was one of the first ways that I started making money online.  Back before I started a blog, even before I graduated college, I was using Swagbucks to bolster our Christmas budget, splurge occasionally, and even buy necessities when money was REALLY tight.  Now, we use Swagbucks to try and supplement our income and max out our investments accounts, primarily our Roth IRAs!
Get a 300 SwagBucks Signup Bonus Here!
What is Swagbucks?
Swagbucks is a site that curates various online tasks and rewards you in the form of SB (Swagbucks) points. These points can be redeemed for a variety of gift cards from retailers like Amazon, Target, and Wal Mart, and if you want to move your earnings straight into your bank account you can even redeem for paypal! 
How can I start earning money?
When you first sign up for Swagbucks, you are rewarded 300 SB for becoming a member. Amazon gift cards often go on sale for 2200 SB, so it can be wise to accumulate points before cashing out. Amazon $1 gift cards start at 160 SB, and Amazon $3 and $5 gift cards can be redeemed for 300 SB and 500 SB, respectively. At the $3 and $5 levels, 1 SB is equivalent to 1c USD. Taking advantage of Amazon $25 gift card sales at 2200 SB can be an effective way to "save" $3. The lower amounts offer quicker payouts but without the discount. 
Get a 300 SwagBucks Signup Bonus Here!
Cashing out via Paypal is available when you reach 2500 SB, redeemable for $25. The conversion rate isn't as friendly as the Amazon $25 gift card, but it allows you to put money directly into your bank account. Note that linking your Paypal account to Swagbucks will require verification from your bank.
Now that you know how Swagbucks can translate to cash, here are easy ways to build points.
Completing Swagbucks Surveys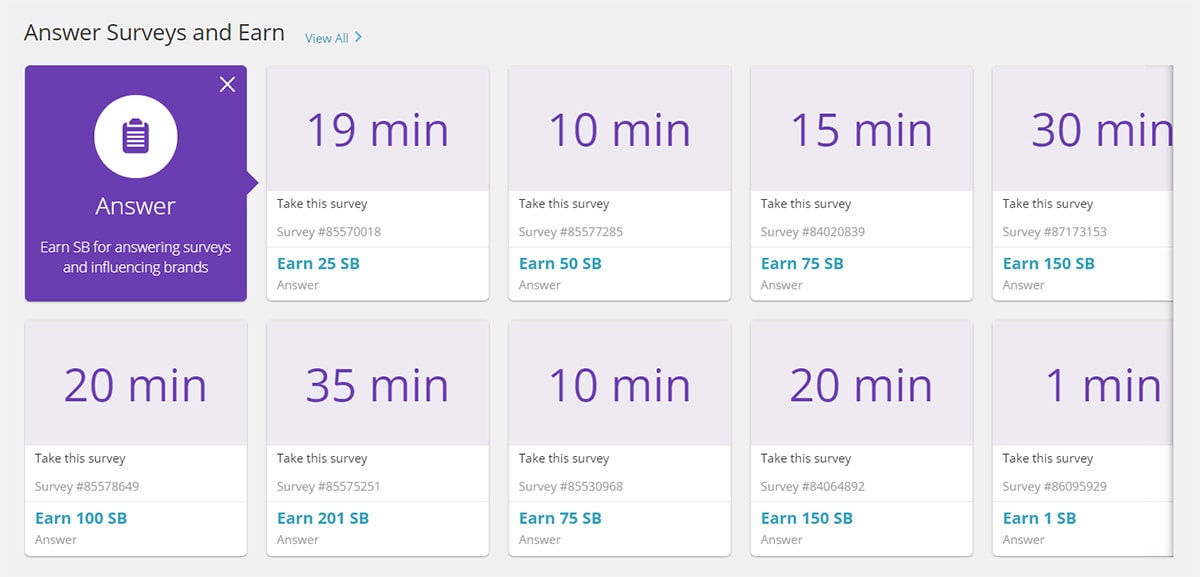 The bulk of your consistent SB points will come from doing surveys. Surveys will request your info for demographic purposes, and topics vary widely. Swagbucks will list the SB point reward and estimated time to complete. Rewards are anywhere from 1-5 SB points for short and easy surveys to 100-500 SB points for ones that require more time and effort. Sometimes 2000+ SB point surveys are listed that require follow-ups and/or watching and reviewing a long video. 
When you're first starting out, a lot of your surveys will cap at 100 SB points. Once you begin doing more, lucrative surveys will start to appear. I try to do surveys in the 10-20 minute range. Note that surveys can disqualify you, often due to demographic reasons. This is a normal part of the process and you will sometimes be rewarded with 1-10 SB points after disqualification so it is not a complete waste of time.
Dedicating some free time to doing surveys every day can be an easy way to earn at least 500 SB points a week. There is potential to earn an extra $20 or more a month just by doing surveys. Attempting and completing surveys will also check off two To-Do List requirements.
Swagbucks will often offer "Swag-Ups" that incentivize you to do surveys by awarding bonus SB. For example, I have a 20% SB bonus that is active until the day's end. This bonus will apply to all surveys completed in that allotted time period. Take advantage of these promotions to bolster your SB point earnings. 
To-Do Lists and Daily Polls          
Swagbucks offers daily To-Do Lists that reward you with bonus SB upon completion. Among these tasks is a Daily Poll that gives you 1 SB when you submit your vote. An example is "Who do you think will win the SuperBowl?" Answering these questions every day increases your SB consistently. It's not a lot, but the effort required is miniscule and is an easy 30-31 SB a month. 
The To-Do List consists of:
Daily Poll

Daily Search

Daily Discover

Daily Watch

Daily Activity

Deal Of The Day

Add In-Store Deal

In-Store Cashback Activity

Attempt A Gold Survey

Complete A Gold Survey
Swagbucks will feature 8 of these on your homepage throughout the week. Completing 6 out of 8 of these items will reward you with 2 bonus SB. Note that the To-Do List will refresh each day. 
By logging in every day, you can fulfill your Daily Activity requirement. Many of these items will be checked off naturally as you engage in Swagbucks activities. 
Get a 300 SwagBucks Signup Bonus Here!
Swagbucks Search
Using Swagbucks Search can sometimes net you bonus SB. The Swagbucks Search box runs at the top of the page when you log-in, and plug-ins are available to add to your browser of choice. The mobile app is an easy way to use Swagbucks Search from your phone. Clicking on the Daily Search when it appears in your To-Do List will satisfy that requirement. Making Swagbucks Search your primary method of search will help you increase your SB points.
Watch Videos
You can earn SB points by watching videos. Swagbucks features playlists that are typically 15-30 minutes long, and cover a wide range of topics and interests. These playlists will feature current events, news in pop culture, politics, hobbies, and other categories. 
Each playlist will only net you 2-3 SB points, but consider it an easy way to earn in the background. Be sure to pay mind to ad prompts that check if you're still watching. Completing a playlist will check off the Daily Watch To-Do List item. The Swagbucks Watch app will allow you to view these playlists on your phone.
Promotional Deals    
Swagbucks hosts a plethora of promotional offers that reward you in SB points for signing up. I was able to get 3000 SB points from signing up with Hulu for $5/month. Swagbucks will not reward you unless you let the subscription run at least one cycle. It took thirty days to process but it was an easy $25. I had even forgotten about it so it was a nice little surprise when I saw it post to my Swagbucks account! Leverage these offers to make money on deals that fit you.
Promotions like signing up for SiriusXM for 4000 SB points, or various online banks that reward 2000 SB points can make you money. You don't have to go out of your way to capitalize on proposals. Find a service that you would have pursued anyway, and weigh the SB points reward against your initial investment. It can be a very efficient way to pay for services and even make money from them. Signing up for a deal with Swagbucks will check off Daily Discover from your To-Do List.
Receipts and Coupons   
With the Swagbucks Answer app, you can easily scan receipts you receive from the grocery store to earn 2 SB points each. It's a great way to recoup some of your money from mandatory spending. Swagbucks will feature certain stores for an added bonus. For example, I was able to scan a Whole Foods receipt for 10 SB points. Specific stores will rotate in and out, but you will be able to scan any recent receipt for 2 SB points.
Swagbucks allows you to print up to 50 coupons per day and rewards you with 1 SB each. If you don't have a printer, you can print to PDF and it still counts. When you redeem a coupon that was printed through Swagbucks, you get rewarded 25 SB points. Consider utilizing relevant coupons the next time you're at the grocery store to accumulate SB points.
Play Games
Swagbucks has a few in-house games under the "Play" section on your homepage. These games are Swagasaurus Run, Swag Jump, and Swag Memory. Playing them will net you 1-10 SB points, but the biggest returns are from signing up for mobile games.
I downloaded and played Final Fantasy XV: A New Empire for my iPhone and received 900 SB points after meeting the requirements in the Swagbucks promotion. Comb through deals in the "Discover" section to find offers like this one. As long as you don't pay into the game, it's an entertaining way to earn substantial SB points.   
Swagbucks Button 
The Swagbucks Button can be added to your browser and alerts you when you're on a site with sales, coupons, and cashback offers. This came in handy when I was shopping for my son's school clothes and was able to get some cash back in the form of SB points shopping at Old Navy. 
Swagbucks Cashback Bonuses  
If you do a lot of online shopping, you can earn at least 1%-2% cashback at several retailers including Gap, Best Buy, and Target. Using Swagbucks to shop at Amazon can reward you with up to 5 SB points for every dollar spent. This can soften the impact of spending at online retailers. Cashback rates can fluctuate so keep that in mind to get the most bang for your buck.
Referring Friends
Swagbucks will reward you with 300 SB points and 10% of a user's earnings when they use your referral. You also get a 100 SB points bonus if they add the Swagbucks button to their browser. If you can get a group of friends into Swagbucks, it's a quick way to pile on the SB points.
You can join online communities like Facebook groups or Reddit.com forums that allow you to share your referral link, further increasing your potential for earnings.  
SWAGO and Swagbucks Spin & Win
Swagbucks will occasionally run week-long events like SWAGO or Swagbucks Spin & Win. You will be notified in your Swagbucks inbox and on your homepage when these promotions go live.  
SWAGO is essentially an online BINGO card where certain activities are required to fill in the spaces. Some are easily accomplished tasks like answering the Daily Poll or watching a video playlist. Other spaces might require you to sign up for a deal or purchase a gift card through Swagbucks. Rewards of different levels help ensure that you can achieve some kind of SB points bonus. Filling any row will reward you with 5 SB points. Filling the whole board will reward 100 SB points for the diligent and dedicated. You will need to submit your Swagbucks 
Think Wheel of Fortune for Swagbucks with Swagbucks Spin & Win. When this event is active, you're given a daily "spin" with the potential to win SB points or more spins. 
Keep an eye out for these fun activities that don't require a big commitment. 
Swagbucks Trivia
Swagbucks hosts an online game show several times a week that you can participate in by downloading the Swagbucks Trivia app to your phone. The questions are multiple-choice, and most games have a winners' pot of $500-$1000. Games are held in the evening hours, with some days hosting two. If you get a question wrong, you can continue to participate and earn 1 SB point for each correct answer. With the high volume of users splitting the winning pot, expect rewards of around 20-100 SB points for a win. It's an entertaining way to earn some SB points for an activity that typically is finished around 10 minutes, with potential for bigger earnings when a quiz is particularly hard. 
Earn Extra Cash 
By actively engaging with the Swagbucks platform you can easily earn an extra $50-$100 a month, or more, depending on your commitment and dedication. Follow these steps to start padding your income:
Complete your daily To-Do Lists

Make Swagbucks Search your primary method of online search

Watch videos

Do surveys in your free time

Scan all accepted receipts

Print coupons daily

Play Swagbucks Trivia

Participate in Swagbucks events like SWAGO
Get a 300 SwagBucks Signup Bonus Here!
Good luck and happy earnings! Swagbucks won't replace your job, but consider it a tool in expanding your Christmas budget, reducing the impact of spending online, or squirreling away cash for that new gadget you've been eyeing!